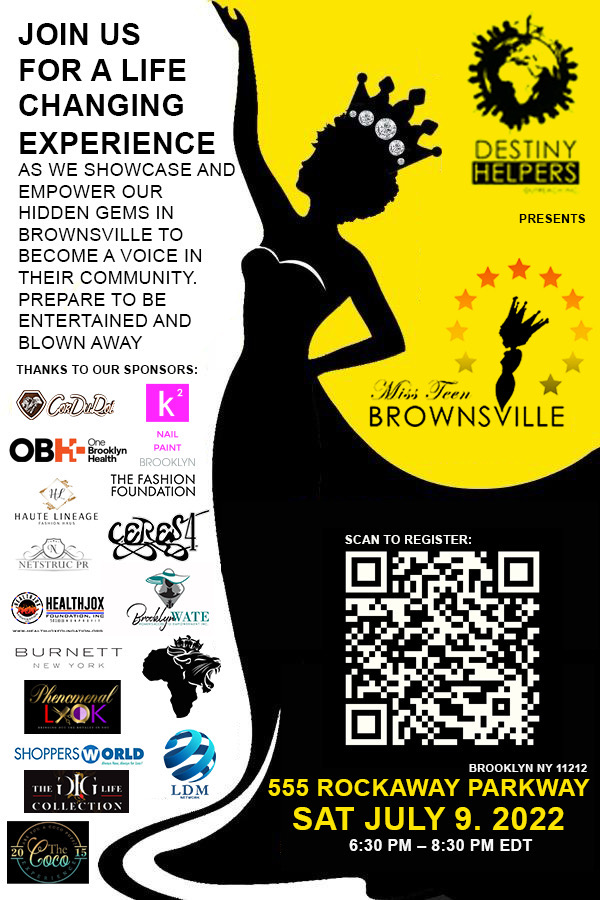 On Saturday, July 9, 2022, Beauty, Brains and Philanthropy Meet when Destiny Helpers Outreach Inc presents a first of its kind pageant, Miss Teen Brownsville, to help teen girls avoid becoming another devastating statistic this low-income neighborhood of color sadly boasting the highest teen pregnancy rate in NYC. The pageant will be held at the Brookdale Auditorium at 555 Rockaway Parkway, Brooklyn, NY 11212 starting at 6:30 pm.
Saturday's pageant is a chance to meet girls aged 13-17 who are beating the odds – designated to become inspiring female leaders. Six girls will be selected to compete for a chance to win educational scholarships, prizes and to be crowned Miss Teen Brownsville 2022. They will model outfits in three categories: sportswear, casual wear and evening gown, with each girl showcasing their talent in performance style. The Miss Teen Brownsville Pageant has received strong fyi community support and is made possible through contributions by One Brooklyn Health, Netstruc Pr, The Fashion Foundation, LDM Network and Shoppers World on Pitkin Avenue, as well as local fashion brands Haute Lineage and Ceres4. The expert judging panel is comprised of Emily Burnett, CEO/Creative Director of Burnett New York, Kimberly Barker, CEO of K2 Cosmetics, Dewry Bradford,Owner of ASQUI Ventures, CorDuRoi, HealthJox LLC & HealthJox Foundation Inc., and Dimitri Vigne, Founder & Creative Director of Ceres4.
Saturday's pageant rounds will be paired with a performance by the Jamel Gaines Creative Outlet dance group. Destiny Helpers Outreach Inc is ready to host a memorable night: "We welcome you to get dressed up and join us for an amazing evening of spectacular ambition, talent and beauty."
Please use the link below to register. Tickets are donation based!
https://www.eventbrite.com/e/373485855247